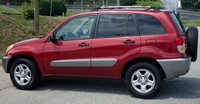 If your 2001-2003 Toyota RAV4 has been experiencing harsh shifts of the transmission, hesitation between shifts, or false diagnostic trouble codes of P0750, P0753, P0755, P0758, P0770 and/or P1760, then chances are your problems are the result of a bad Engine Control Module (ECM).
Toyota acknowledged this problem in 2006 when the company released a RAV4 technical service bulletin calling for the replacement of the ECM. Unfortunately, most vehicles were outside of their warranty period by this time costing owners any where between $800 - $1000 dollars.
If you are searching for a cost efficient and reliable alternative over the dealership, we can help with our RAV4 ECM repair. We offer a fast 1 business day turnaround that can have your RAV4 running and shifting like new again. The benefit of this repair service is not only saving you hundreds of dollars, but also there is NO NEED TO REPROGRAM YOUR ECM! Just reinstall it and you're back in business!
So don't wait any longer click here to place your repair order today, or give the experts at Circuit Board Medics a call at 800-547-2049, and we will be glad to answer any of your questions.
The following video shows you how to remove the ECM / ECU from your Toyota RAV4. This video is of a RAV4, but the process is very similar for the Lexus RX300.