2006 - 2009 Ford Fusion, Mercury Milan PCM Exchange
2006 - 2009 Ford Fusion, Mercury Milan PCM Exchange
* Note: If you send your PCM to us for repair, there is no need for programming. If you would rather have an exchange PCM shipped to minimize downtime, please note that keys will need to be programmed in order to start the vehicle (read further for details).
This is a completely refurbished replacement PCM for your 2006, 2007, 2008, or 2009 3.0L Ford Fusion or Mercury Milan. Each PCM is programmed (flashed) for your specific vehicle VIN and options, but your keys will still need to be programmed by an automotive locksmith or mechanic with the proper equipment. Please note that this PCM will not start your vehicle until the keys have been programmed. All orders placed by 3:00PM EST will ship the SAME BUSINESS DAY!!!
Each Fusion PCM is tested on an actual vehicle before it is shipped!
IMPORTANT INFORMATION:
Each exchange PCM is programmed to your VIN and vehicle options, but your keys will still need to be programmed by someone with the proper equipment. You will need 2 keys to complete the programming process. If you want to avoid the need for key programming, you can send your original PCM to us for repair to avoid any need for programming at all.
The purchase of a replacement module requires your original "core" module to be shipped to Circuit Board Medics after you receive the refurbished module. We do not require an up front core deposit, but a core charge must be captured if a rebuildable board is not returned to Circuit Board Medics. If Circuit Board Medics does not receive your core within 15 calendar days of the ship date of your exchange unit, an additional core charge of $150 will be charged to your credit card.
Your original module must meet the following qualifications:

The case has not been opened or attempted to be opened
No prior repair attempts
No water damage
No fire damage
NOTE: If you believe your original core would not be accepted due to our qualifications, WE CAN STILL HELP! Check out our 2006-2009 Ford Fusion PCM Repair Service.
We test each refurbished PCM on an actual vehicle to ensure that it is functioning 100% properly. The benefits of this PCM exchange service are saving hundreds of dollars and minimizing downtime (SAME DAY SHIPPING!). Just install the module, and you're back in business! If you have any questions, feel free to contact us at 800-547-2049.
Ignition Coils and Spark Plugs:
We are now offering ignition coils and spark plugs to make the repair process even easier. If the PCM has been damaged by a failed ignition coil, then all 6 coils must be changed at the same time as the PCM. Instead of having to purchase the PCM in one place and the coils and plugs separately, we are offering a package deal. We strongly recommend using Motorcraft replacement ignition coils and spark plugs. With the purchase of the ignition coils and spark plugs from Circuit Board Medics, we will extend you to a two year warranty on the PCM, ignition coils and spark plugs.
How This Works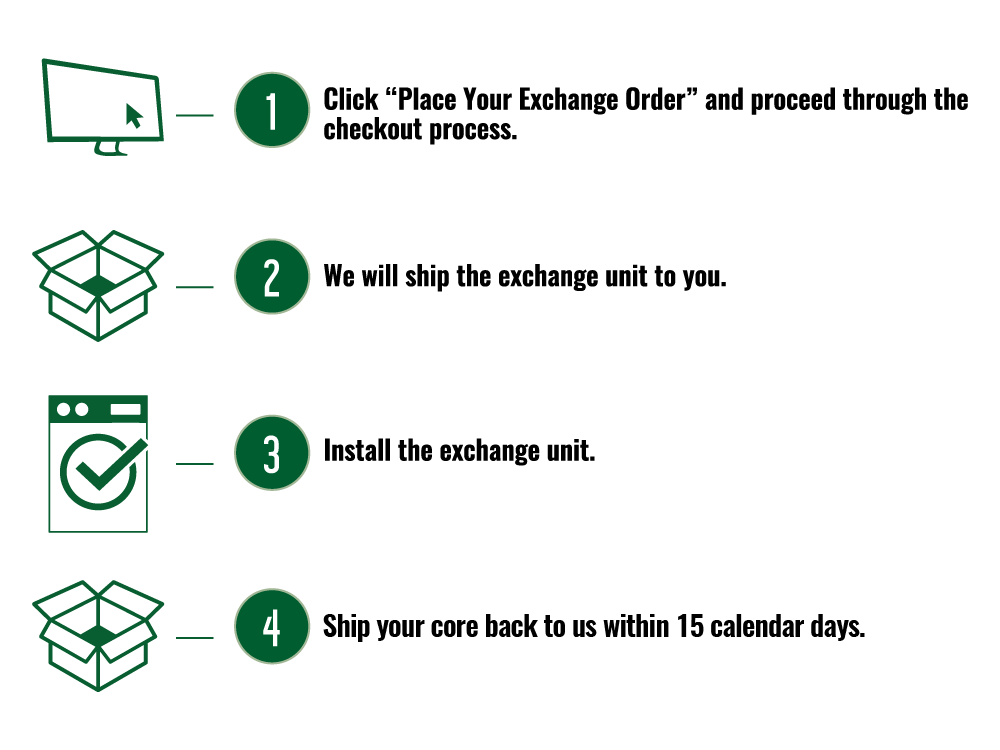 Warranty
Our no-hassle warranty covers your repair for a full year. If the repair fails anytime within a year, we will repair the item again. In the rare occasion that the item is not repairable, we will either replace the circuit board entirely or refund the cost of the repair, at our discretion. See Details...