12001607 Oven Control Board Repair
12001607 Oven Control Board Repair
Below is a list of common questions and answers related to our oven control repair service for (OEM) Part number 12001607 and alternate part number 7601P302-60, 7601P301-60, 7601P298-60, 7601P297-60, 7601P279-60, 7601P278-60, 74004192, 74004191, 74004190, 74003199, 74003198, 74003197, 74002645, 74002644, 74002272, 74002271, 74001641, 74001640 and 74001637, which resolves F1 Error Code.
OVEN CONTROL BOARD REPAIR COMMON FAQs
Can you repair my existing oven control board?
Yes, this is an oven control board repair service for your existing control board and relay board. We repair the following OEM and alternate replacement part numbers:
12001607
7601P302-60
7601P301-60
7601P298-60
7601P297-60
7601P279-60
7601P278-60
74004192
74004191
74004190
74003199
74003198
74003197
74002645
74002644
74002272
74002271
74001641
74001640
74001637
NOTE: We rebuild BOTH the control board AND the separate relay board (part # WP74001870). Please include the relay board with your oven control board so that we can upgrade both.
What are some of the common problems or symptoms that this oven control board repair service will fix?
Some common problems associated with these boards are listed below. Your oven may be having some or all of these symptoms.
F1 Error Code
F3 Error Code
Oven doesn't reach temperature
Oven will not turn off
Other intermittent error codes
How long will it take to repair my oven control board?
We offer a one business day turnaround on our oven control board repair. See the "How This Works" tab above for more details.
Do you offer a warranty with your repair service?
Yes, we offer a warranty on all our oven control board repairs. Our no-hassle warranty covers your repair, and if the repair fails anytime within the warranty period, we will repair the item again.
Repair Service Benefits
There are several benefits to our repair service over purchasing a new control board that include:
Upgrading your range control board by using high-quality components
A no-hassle warranty that far exceeds warranties offered on new replacements
A 1-business day turnaround in our facility once we receive your current oven control board
Significantly discounted shipping rates offered during checkout if you choose to purchase a prepaid shipping label to use when shipping your board to us
5-Star customer service!
Start the repair process today by clicking the "Place Your Repair Order" button above and proceed through the checkout process. Please text or call us at 800-547-2049 if you have any questions.
How This Works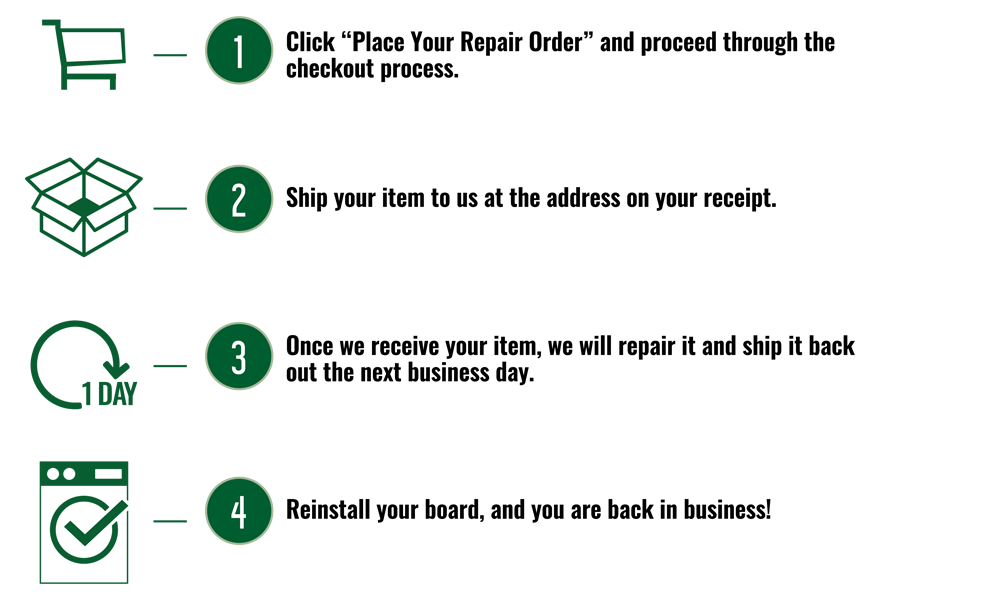 Part Numbers
Oven Model Numbers that use this control board.
Note: This is NOT an exhaustive list. If you do not see your oven listed, please call us at 800-547-2049.
CHE9800BCB
5898VVV
7858XVA
6898XVB
62946775690
7858XVW
6892VVV
629.46779
6892XVS
CHE9000BCE
5898XVB
629.46775
CFE9000BCB
5892VVV
62945765690
6898VVA
62946779790
7898VAV
5892VVA
5898VVA
62945765
6892VVA
7898XVA
CHE9000BCB
62945766790
62946775790
62946776790
7898VVV
L6892VVV
5892XVS
629.45769
629.46776
6294576
62945765790
62945769790
6892XVA
6892XVB
6892XVW
C6892XVS
CC3872XVA
CC3872XVW
CC6898VVV
CE6898VVA
CHEA700BCB
CHEA700BCE
L3872XVB
L3878XVA
L3882XVA
L3882XVW
L6892VYV
L6898VYV
L6898XYB
Warranty
Our no-hassle warranty covers your repair for a full two years. If the repair fails anytime within 2 years, we will repair the item again. In the rare occasion that the item is not repairable, we will either replace the circuit board entirely or refund the cost of the repair, at our discretion. See Details...