WPW10207411 Refrigerator Control Board Repair
WPW10207411 Refrigerator Control Board Repair
This repair service is for a Maytag, Kenmore, and Jenn-Air refrigerator inverter control board, part number WPW10207411. The most common problems associated with this control board are the the refrigerator does not cool correctly, or the compressor will not function. Our repair service will fix your existing refrigerator control board with high quality upgraded components within "1" business day of receiving your control board. If you are experiencing issues other than the problems listed here or if you do not see your board listed on this page or our website, please call us at 800-547-2049 for a repair quote.
The WPW10207411 replaces the following OEM part numbers:
AP6017077

W10207411

12002609

12002612

12002627

12782019

12782026

67005398

67005403

67005407

67005467

67006202

67007022
How This Works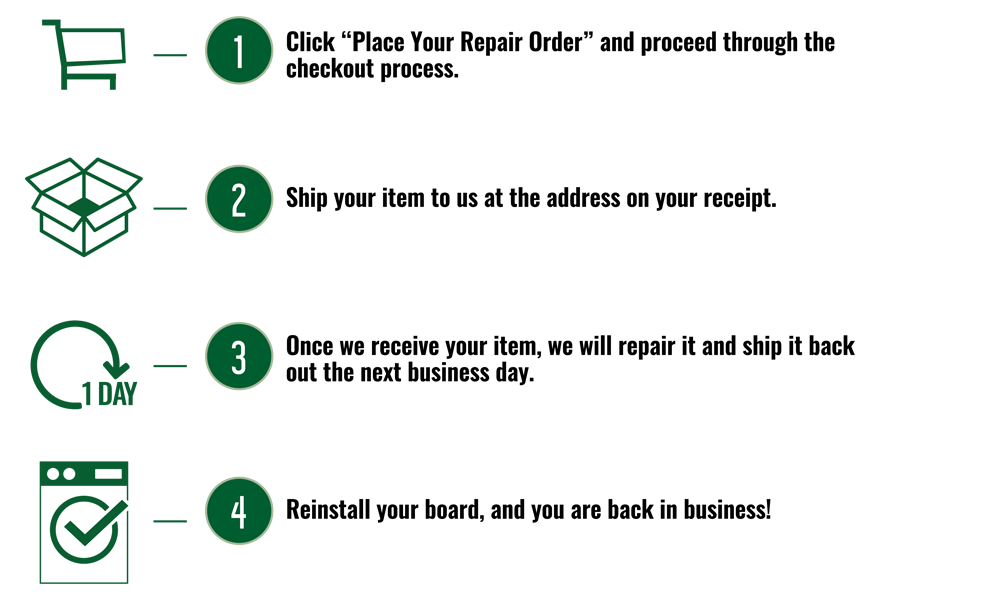 Part Numbers
Various refrigerator model numbers that use this control board. Note: This is NOT an exhaustive list. If you do not see your oven listed, please call us at 800-547-2049.
| | |
| --- | --- |
| JCD2295KES JSD2695KES JCD2295KEP MZD2669KES JCD2292KTB JCD2297KEF JCD2297KEY JCB2285KES JSD2697KEY JSD2695KGW MSD2660KGB JCB2285KEP MSD2359KES MSD2359KEW MZD2669KEW JSD2695KGB JSD2697KEF MSD2660KES | 59655669500 59657043600 59657049600 59657053600 59657059600 JCB2282KTB JCB2282KTW JCB2287KEF JCB2287KEY JCD2292KTW MSD2359KEB MSD2359KEQ MSD2659KEB MSD2659KEQ MSD2659KES MSD2659KEW MSD2660KGW MZD2669KEB MZD2669KEQ |
Warranty
Our no-hassle warranty covers your repair for a full two years. If the repair fails anytime within 2 years, we will repair the item again. In the rare occasion that the item is not repairable, we will either replace the circuit board entirely or refund the cost of the repair, at our discretion. See Details...