WB27T10327 Oven Control Board Repair
WB27T10327 Oven Control Board Repair
Below is a list of common questions and answers related to our oven control repair service for (OEM) Part number WB27T10265 and alternate part number WB27K5273, which resolves F1 Error Code.
OVEN CONTROL BOARD REPAIR COMMON FAQs
Can you repair my existing oven control board?
Yes, this is an oven control board repair service for your existing control board. We repair the following OEM and alternate replacement part numbers:
WB27T10327

346103

WB27K5056

WB27K5201
What are some of the common problems or symptoms that this oven control board repair service will fix?
Some common problems associated with these boards are listed below. Your oven may be having some or all of these symptoms.
F1 Error Code
Oven doesn't reach temperature
Oven will not turn off
Other intermittent error codes
Repair Service Benefits
There are several benefits to our repair service over purchasing a new control board that include:
Upgrading your range control board by using high-quality components
A no-hassle warranty that far exceeds warranties offered on new replacements
A 1-business day turnaround in our facility once we receive your current oven control board
Significantly discounted shipping rates offered during checkout if you choose to purchase a prepaid shipping label to use when shipping your board to us
5-Star customer service!
Start the repair process today by clicking the "Place Your Repair Order" button above and proceed through the checkout process. Please text or call us at 800-547-2049 if you have any questions.
How This Works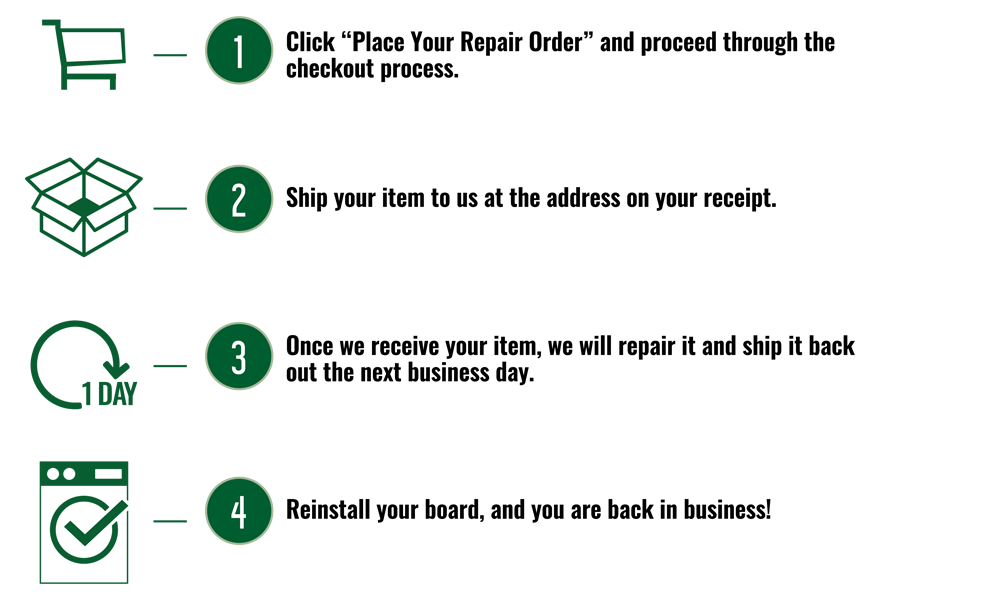 Part Numbers
GE Oven Model Numbers that use this control board.
Note: This is NOT an exhaustive list. If you do not see your oven listed,
please call us at 800-547-2049.
JGRC14GEP2BG
JGRS14GEP2BG
JGRS14GET1BB
JGRS14GET2BB
JGRS14GEV1BB
RGJ534GEP1
RGJ534GEP2BG

Warranty
Our no-hassle warranty covers your repair for a full two years. If the repair fails anytime within 2 years, we will repair the item again. In the rare occasion that the item is not repairable, we will either replace the circuit board entirely or refund the cost of the repair, at our discretion. See Details...