WB19X255 Oven Control Board Repair
WB19X255 Oven Control Board Repair
This repair service is for a GE and Kenmore oven control board, part number WB19X255 that has failed and is experiencing one or more of the following issues:
F1 error code
Oven exceeds the temperature setpoint or will not turn off
Oven does not reach temperature
Oven display, clock or electric range control (ERC) is dim or completely out
NOTE: We rebuild the display control board AND the separate relay board(s) (part #00492069) so that we can upgrade all the control boards from the oven.
If you have a single oven, please send the main display board AND 1 relay board.
If you have a double oven, please send the main display board AND 2 relay boards. (Repair cost stays at $159.99)
This repair is also for the following alternate and replacement part numbers:
247199
337632
338458
338693
338693R
339266
342136
343564
338519
AH234033
EA234033
PS234033
WB19X0247
WB19X0255
WB19X0264
WB19X247
WB19X264
The benefits of this repair service include:
Upgrading your range control board by using high-quality components
A no-hassle warranty that far exceeds warranties offered on new replacements
A 1-business day turnaround in our facility once we receive your current oven control board
Significantly discounted shipping rates offered during checkout if you choose to purchase a prepaid shipping label to use when shipping your board to us
If you have any questions, please call 800-547-2049.
How This Works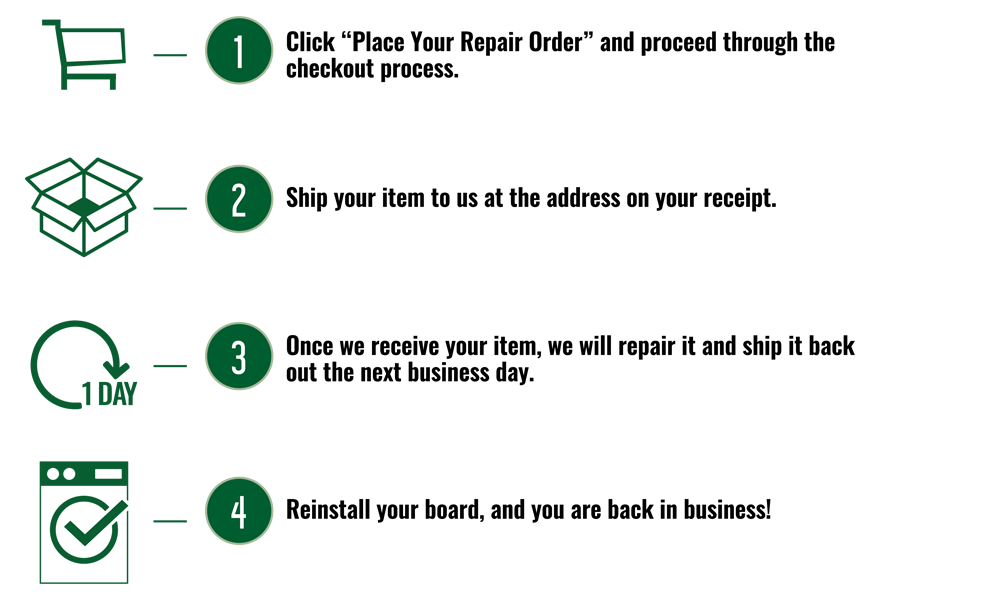 Part Numbers
GE, Hotpoint, Kenmore, and Roper Oven Model Numbers that use this control board:
Note: This is NOT an exhaustive list. If you do not see your oven listed,
please call us at 800-547-2049.
911.4558810
911.4558811
911.4558812
911.4558813
911.4558816
911.4558817
911.4558818
911.4558819
911455881A
911455881C
JGSP10GEK2
JGSP20GEP2
B8758X1
JDP37GL3
JGSP31GEP5WG
L3S340GL0
JDP37GL4
JGSP10GEK1
JGSP10GEK3
JGSP31GEP1
JDP37GL1
JGRP18GEL3
JGRP18GEL4
JGSP20GEP1
JGSP30GEP1
L2J345GEL0
RF725GL1
B8758B0
B8758B1
B8758X0
B9757X0
B9757X1
D9757W0
D9757W1
D9757W2
JDP37G0L1
JDP37G0L2
JDP37GL2
JGRP18GEL1
JGRP18GEL2
JGRP18GEL5
JGRP19GEL1
JGRP19GEL2
JGRP19GEL3
JGRP19GEL4
JGRP19GEL5
JGSP21GEP1
JGSP21GEP2
JGSP30GEP2
JGSP30GEP4BG
JGSP30GEP5BG
JGSP31GEP4
JGSP31GEP6WG
L2J345GEL1
L2J345GEL2
L2S345GEL0
L3S340GL1
L3S340GL2
L3S340GL3
L3S340GL4
RF725GL2
RF725GL3
RF725GL4
S8757W0
S8757W1
S9507W0
S9507W1

Warranty
Our no-hassle warranty covers your repair for a full two years. If the repair fails anytime within 2 years, we will repair the item again. In the rare occasion that the item is not repairable, we will either replace the circuit board entirely or refund the cost of the repair, at our discretion. See Details...