Driving through a foggy night or a heavy rainstorm can be challenging enough, and is even made worse when you have to squint your eyes at your blurry dash cluster while also trying to focus on the road. This situation can be frustrating and even dangerous. To fix this issue, you have two options: replace the current backlighting bulbs, or upgrade to light emitting diodes, otherwise known as LEDs. Replacing the bulbs with the standard bulbs seems practical, but you expect the same results for the backlighting of your cluster.
Upgrading to LEDs can give you superior results when dealing with dim lighting issues on your instrument cluster. LEDs are known for giving an instrument cluster a brighter, crisper look. They increase the brightness of the cluster as a whole while allowing the driver also to dim the brightness of the cluster if they choose.
LED lights can also save your vehicle more energy than standard incandescent bulbs. On average, standard bulbs have a life expectancy of 5000 hours. However, LEDs have a much longer bulb life compared to standard bulbs. LED bulbs do not fade or get foggy over time, and they can last for over 25,000 hours. There is also a low heat output with LED bulbs compared to standard bulbs. LED bulbs are designed to put 80% of their energy towards light energy, which contributes to the brightness of the instrument cluster, while the other 20% is lost as heat energy. On the other hand, an incandescent standard bulb represents the opposite, in that they give off 20% of their energy as light energy, while the remaining 80% is given off as heat energy, which does not contribute to the visual displays of your instrument cluster.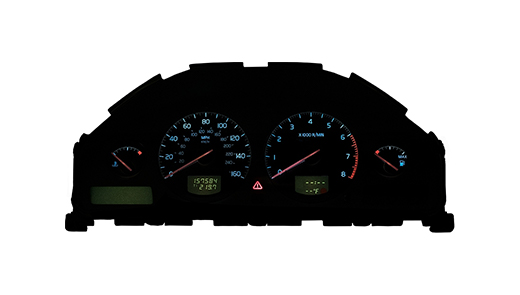 Upgrading to LEDs includes a nominal upcharge of $30, but they can save you more money, energy (for you and your vehicle) in the long run. At Circuit Board Medics we offer a variety of colors to customize your dashboard depending on the make and model of your vehicle and your personal preferences. We currently offer colors such as red, cool blue, dark blue, green, and white for certain makes and models.
If you are interested in purchasing some LEDs for your cluster, click the button below to see a list of all instrument cluster repairs with the LED upgrade option, or if you have any questions, feel free to contact us at 1-800-547-2049.