WP8302967 Oven Control Board Repair
WP8302967 Oven Control Board Repair
This is an oven control board repair service for Whirlpool and KitchenAid part number WP8302967, alternate part number 8302967 that has failed or is experiencing problems with the oven display, fan running continuously, or oven temperature problems. Below is a list of common questions and answers related to our oven control repair service. See the list below for related replacement part and model numbers.
OVEN CONTROL BOARD REPAIR COMMON FAQs
What are some of the common problems or symptoms that this oven control board repair service will fix?
A common problem associated with this oven control board is:
Oven display is no longer working and is completely out
Fan remains on at all times (even with the oven turned off)
Oven exceeds the temperature setpoint
Oven does not reach temperature
F2 E6 Error code
NOTE:
If you are receiving an F2 E1 error code, that is an issue with your front touch panel and would not be fixed by our repair service.
If you have a dim display screen, Please give us a call at 800-547-2049 before placing your order.
How long will it take to repair my oven control board?
We offer a fast one business day turnaround on our oven control board repair. See the "How This Works" tab above for more details.
Do you offer a warranty with your repair service?
Yes, we offer a warranty on all our oven control board repairs. Our no-hassle warranty covers your repair, and if the repair fails anytime within the warranty period, we will repair the item again.
If you do not see your board listed below please call us at 800-547-2049.
Can you repair my existing oven control board?
Yes, this is an oven/range/stove control board repair service for your existing control board. We repair the following Whirlpool and KitchenAid alternate replacement part numbers as well:
8302967
AP3767567
8302967R
4453664
4452898
4452890
4451856
4451991
1057546
AH973354
EA973354
PS973354
How This Works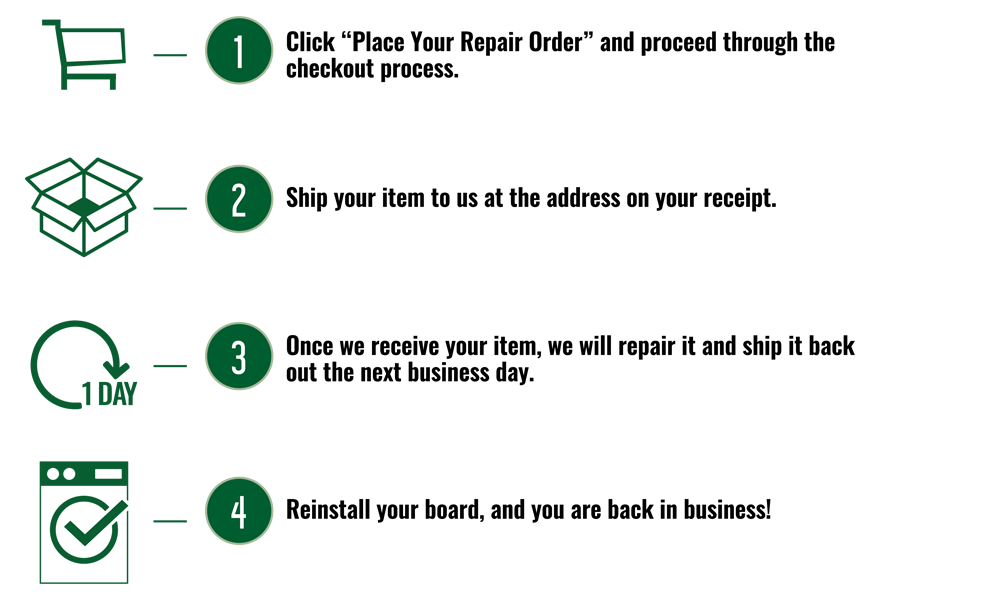 Part Numbers
Whirlpool and KitchenAid oven model numbers that use this control board.
Note: This is NOT an exhaustive list. If you do not see your oven listed, please call us at 800-547-2049.
GBD307PDS7
RBD275PDB12
RBD275PDB8
RBD275PDQ8
GBD307PDB7
GBD307PDS6
RBD305PDQ11
RBD245PDQ12
RBD305PDB10
RBD305PDB12
RBD305PDQ12
RBD305PDQ8
RBD305PDS12
GBD307PDQ3
RBD275PDQ10
RBD276PDB12
GBD307PDB6
RBD275PDQ12
RBD305PDQ10
GBD307PDB5
RBD245PDQ11
RBD306PDQ8
GBD277PDB6
RBD275PDT12
RBD306PDB10
RBD306PDB12
RBD306PDB7
RBD306PDT12
GBD277PDQ7
GBD277PDS5
GBD307PDS5
GBD307PDT7
RBD245PDB12
RBD245PDQ8
RBD245PDS12
RBD305PDB7
RBD306PDB11
RBD306PDB8
GBD277PDB5
GBD277PDB7
GBD277PDQ5
GBD277PDS7
GBD307PDS4
GBD307PDT5
RBD245PDB8
RBD245PDT12
RBD275PDB11
RBD275PDB7
RBD275PDQ7
RBD305PDQ9
RBD305PDT12
RBD306PDQ10
RBD306PDQ12
RBD306PDT11
GBD277PDB2
GBD277PDQ6
GBD277PDS6
GBD307PDQ7
GBD307PDT3
RBD245PDQ7
RBD275PDQ11
RBD276PDQ10
RBD305PDB11
RBD305PDQ7
RBD306PDB9
GBD277PDB3
GBD277PDS8
GBD307PDQ2
GBD307PDQ5
GBD307PDQ6
RBD245PDB10
RBD245PDQ9
RBD245PDT10
RBD275PDB10
RBD275PDS12
RBD276PDB10
RBD276PDB7
RBD276PDQ12
RBD276PDQ8
RBD306PDQ7
GBD277PDB4
GBD277PDB8
GBD277PDQ2
GBD277PDQ3
GBD277PDQ4
GBD277PDQ8
GBD277PDS2
GBD277PDS3
GBD277PDS4
GBD277PDT7
GBD277PDT8
GBD307PDB2
GBD307PDB3
GBD307PDB4
GBD307PDQ4
GBD307PDS2
GBD307PDT2
GBD307PDT4
GBD307PDT6
RBD245PDB11
RBD245PDB7
RBD245PDB9
RBD245PDQ10
RBD245PDT11
RBD245PDT8
RBD245PDT9
RBD275PDB13
RBD275PDB9
RBD275PDQ13
RBD275PDQ9
RBD275PDT10
RBD275PDT11
RBD275PDT13
RBD275PDT8
RBD275PDT9
RBD276PDB11
RBD276PDB8
RBD276PDB9
RBD276PDQ11
RBD276PDQ7
RBD276PDQ9
RBD305PDB13
RBD305PDB9
RBD305PDQ13
RBD305PDT11
RBD305PDT13
RBD306PDB13
RBD306PDQ11
RBD306PDQ13
RBD306PDQ9
RBD306PDT13
RBD306PDZ10
RBD306PDZ6
RBD306PDZ7
RBD306PDZ8
RBD306PDZ9
Warranty
Our no-hassle warranty covers your repair for a full two years. If the repair fails anytime within two years, we will repair the item again. In the rare occasion that the item is not repairable, we will either replace the circuit board entirely or refund the cost of the repair, at our discretion. See Details...