7601P071-60 Oven Control Board Repair
7601P071-60 Oven Control Board Repair
This repair service is for a Maytag, Magic Chef, Crosley, Admiral, or Hardwick oven control board, part number 7601P071-60 that has failed and is experiencing one or more of the following issues:
F1 error code
Oven exceeds the temperature setpoint or will not turn off
Oven does not reach temperature
Oven display clock or electric range control (ERC) is dim or completely out
NOTE: We rebuild BOTH the control board AND the separate relay board (part # 00492069). Please include the relay board with your oven control board so that we can upgrade both.
This repair is also for the following alternate and replacement part numbers:
1289
7601P062-60
7601P071-60
7601P101-60
7601P153-60
7601P155-60R
AH2090591
EA2090591
PS2090591
W10125721
Y7601P155-60
Repair Service Benefits
There are several benefits to our repair service over purchasing a new control board that include:
Upgrading your range control board by using high-quality components
A no-hassle warranty that far exceeds warranties offered on new replacements
A 1-business day turnaround in our facility once we receive your current oven control board
Significantly discounted shipping rates offered during checkout if you choose to purchase a prepaid shipping label to use when shipping your board to us
5-Star customer service!
Start the repair process today by clicking the "Place Your Repair Order" button above and proceed through the checkout process. Please text or call us at 800-547-2049 if you have any questions.
How This Works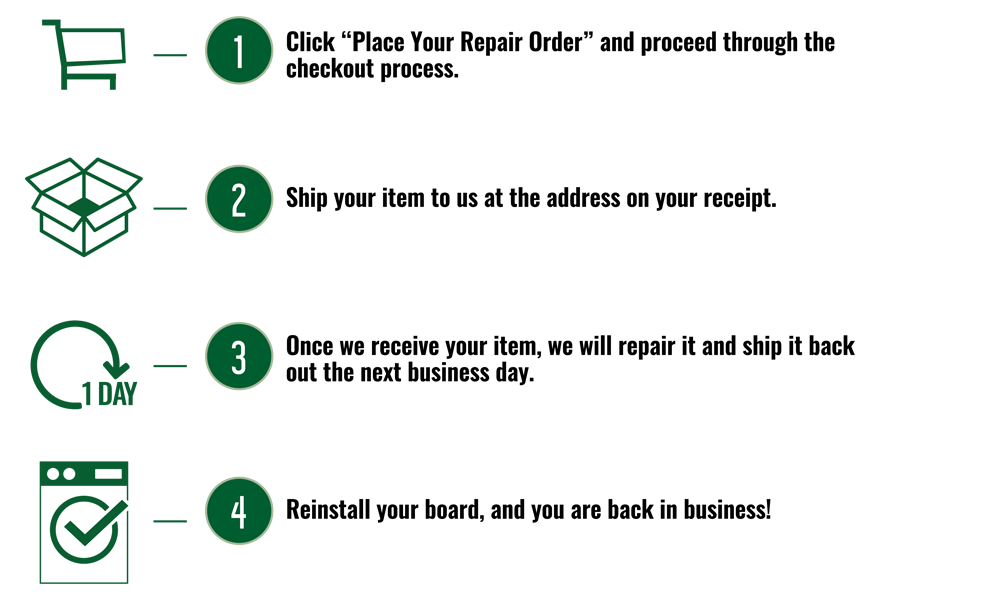 Part Numbers
Oven model numbers that use this control board: Note: This is NOT an exhaustive list. If you do not see your oven listed
please call us at 800-547-2049
34JA-3TKXW
34HA-3TKXW
34JN-5TKVW
34HA-5TKXW
34HN-3TKXW
34HA-5TKVW
34JK-5TKXW
CGW4D59TSZK
LCRG860
U34HA-3TKXW-ON
34HA-3TKXW-ON
34HN-3TKXW-ON
34HN-5TKXW
34JN-3TKXW
34JN-5TKXW
CPG9841KW679DG
LCRG805
34GA-3TKX-ON
34GA-3TKXW-ON
34GA-4TKVW
34GA-4TKXW
34GB-3TKX-ON
34GB-4TKXW
34GG-4TKXW
34GK-4TKXW
34GN-3TKX-ON
34GN-3TKXW-ON
34GN-4TKVW
34GN-4TKXW
34GV-4TKXW
34GY-3TKX-ON
34GY-4TKXW
34HA-2TKX-FE
34HB-3TKXW-ON
34HK-3TKXW-ON
34HK-5TKXW
34HN-2TKX-FE
34HN-5TKVW
34HY-3TKXW
34HY-3TKXW-ON
34JA-3TKXW-ON
34JA-4TKXW
34JA-5TKVW
34JA-5TKXW
34JN-3TKXW-ON
34JN-5TVW-EV
686AJ-TKSVW
686WJ-TKSVW
687AJ-TKSAW
687AK-TKSAW
687WJ-TKSAW
687WK-TKSAW
B34HA-3TKX-ON
B34HA-3TKXW-ON
B34HA-5TKXW
B34HN-3TKX-ON
B34HN-3TKXW-ON
BCRG860
CGA4D59TSZK
CGA4D59TZK
CGW4D59TZK
CPG9841KA679DG
CRG783
CRG805
LCRG783
S34GA-4TKXW
S34GK-4TKXW
S34GN-4TKXW
S34JK-4TKXW
S34JK-5TKXW
U34GA-4TKXW
U34GN-4TKXW
U34HA-5TKXW
U34HK-3TKXW-ON
U34HN-3TKXW-ON
U34HN-5TKXW
Warranty
Our no-hassle warranty covers your repair for a full two years. If the repair fails anytime within 2 years, we will repair the item again. In the rare occasion that the item is not repairable, we will either replace the circuit board entirely or refund the cost of the repair, at our discretion. See Details...