4448866 Oven Control Board Repair
4448866 Oven Control Board Repair
Below is a list of common questions and answers related to our oven control repair service for KitchenAid Part number 4448866, which resolves the F1 Error Code and other issues.
OVEN CONTROL BOARD REPAIR COMMON FAQs
Can you repair my existing oven control board?
Yes, this is an oven control board repair service for your existing control board. We repair the following Whirlpool alternate and replacement part numbers:
4448866
AP2929393
4448866R
What are some of the common problems or symptoms that this oven control board repair service will fix?
Some common problems associated with this board is listed below. Your oven may be having some or all of these symptoms.
F1 Error Code
Oven doesn't reach temperature
Oven will not turn off
Other intermittent error codes
How long will it take to repair my oven control board?
We offer a one business day turnaround on our oven control board repair. See the "How This Works" tab above for more details.
Do you offer a warranty with your repair service?
Yes, we offer a warranty on all our oven control board repairs. Our no-hassle warranty covers your repair, and if the repair fails anytime within the warranty period, we will repair the item again.
If you do not see your board listed below please call us at 800-547-2049.
How This Works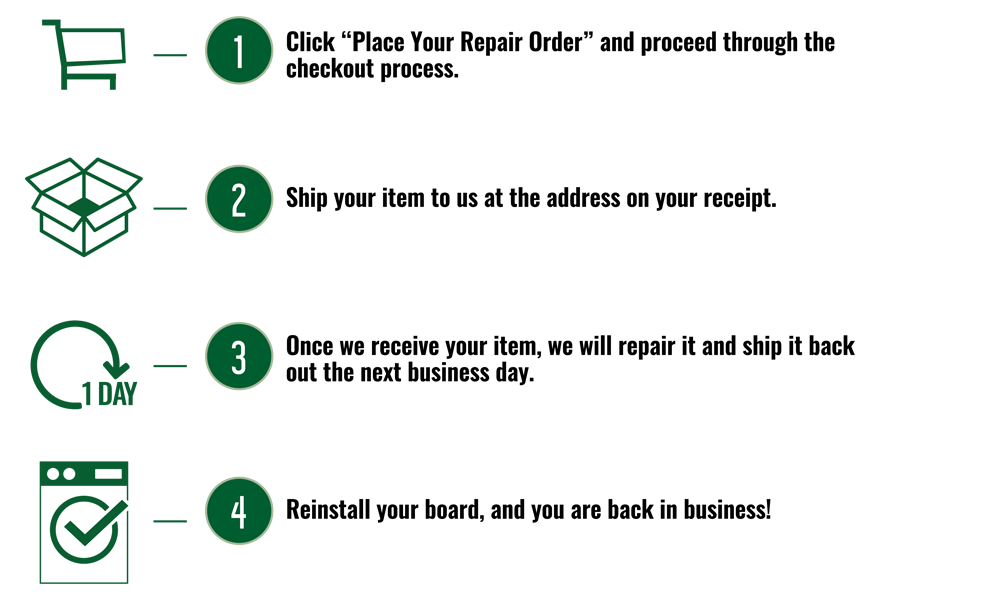 Part Numbers
KitchenAid Oven Model Numbers that use this control board.
Note: This is NOT an exhaustive list. If you do not see your oven listed, please call us at 800-547-2049.
KEBC107KSS0
KEBC177KSS0
KEBS177DBL7
KEBC177KBL0
KEBC107KBS0
KEBC107KBT0
KEBC107KWH0
KEBI101DBL8
KEBS107DBL7
KEBS107DBS8
KEBS107DBT7
KEBS107DSS10
KEBS177DWH7
KEBC101KWH0
KEBS107DSS7
KEBS147DWH8
KEBS177DBT10
KEBS177DSS11
KEBC101KBL0
KEBC107HBL0
KEBC107HBL2
KEBC107HWH2
KEBC141KWH0
KEBI101DBL7
KEBI141DBL11
KEBI171DWH7
KEBS107DBL10
KEBS107DBS10
KEBS107DBS11
KEBS107DBS7
KEBS107DSS11
KEBS107DWH7
KEBS107DWH8
KEBS177DBL10
KEBS177DBL8
KEBS177DBS7
KEBS177DBS8
KEBC107HBL1
KEBC107HBL3
KEBC107HBT0
KEBC107HBT1
KEBC107HBT2
KEBC107HBT3
KEBC107HWH0
KEBC107HWH1
KEBC107HWH3
KEBC107KBL0
KEBC107KBL1
KEBC107KBS1
KEBC107KBT1
KEBC107KSS1
KEBC107KWH1
KEBC141KBL0
KEBC147KBL0
KEBC147KWH0
KEBC171KBL0
KEBC171KWH0
KEBC177HBL0
KEBC177HBL1
KEBC177HBL3
KEBC177HBT0
KEBC177HBT1
KEBC177HBT3
KEBC177HWH0
KEBC177HWH1
KEBC177HWH3
KEBC177KBL1
KEBC177KBS0
KEBC177KBT0
KEBC177KSS1
KEBC177KWH0
KEBI101DBL10
KEBI101DBL11
KEBI101DBL12
KEBI101DBL9
KEBI101DWH10
KEBI101DWH11
KEBI101DWH12
KEBI101DWH7
KEBI101DWH8
KEBI101DWH9
KEBI107DWH10
KEBI141DBL10
KEBI141DBL7
KEBI141DBL8
KEBI141DBL9
KEBI141DWH10
KEBI141DWH11
KEBI141DWH7
KEBI141DWH8
KEBI141DWH9
KEBI171DBL10
KEBI171DBL11
KEBI171DBL7
KEBI171DBL8
KEBI171DBL9
KEBI171DWH10
KEBI171DWH11
KEBI171DWH8
KEBI171DWH9
KEBS107DAL7
KEBS107DAL8
KEBS107DBAL7
KEBS107DBL11
KEBS107DBL8
KEBS107DBL9
KEBS107DBS9
KEBS107DBT10
KEBS107DBT11
KEBS107DBT8
KEBS107DBT9
KEBS107DSS8
KEBS107DSS9
KEBS107DWH10
KEBS107DWH11
KEBS107DWH9
KEBS147DBL10
KEBS147DBL11
KEBS147DBL7
KEBS147DBL8
KEBS147DBL9
KEBS147DWH10
KEBS147DWH11
KEBS147DWH7
KEBS147DWH9
KEBS177DAL7
KEBS177DAL8
KEBS177DBL11
KEBS177DBL9
KEBS177DBS10
KEBS177DBS11
KEBS177DBS9
KEBS177DBT11
KEBS177DBT7
KEBS177DBT8
KEBS177DBT9
KEBS177DSS10
KEBS177DSS7
KEBS177DSS8
KEBS177DSS9
KEBS177DWH10
KEBS177DWH11
KEBS177DWH8
KEBS177DWH9

Warranty
Our no-hassle warranty covers your repair for a full two years. If the repair fails anytime within two years, we will repair the item again. In the rare occasion that the item is not repairable, we will either replace the circuit board entirely or refund the cost of the repair, at our discretion. See Details...