318010900 Oven Control Board Repair
318010900 Oven Control Board Repair
This repair service is for a Frigidaire oven control board, part number 318010900 that has failed and is experiencing one or more of the following issues:
Intermittent error codes, including F1, F2, F3, F4
Oven exceeds the temperature setpoint or will not turn off
Oven does not reach temperature
Oven display, clock or electric range control (ERC) is dim or completely out
This repair is also for the following alternate and replacement part numbers:
318010900
AP2127074
499455
AH440928
EA440928
PS440928
The benefits of this repair service include:
Upgrading your range control board by using high-quality components
A no-hassle warranty that far exceeds warranties offered on new replacements
A 1-business day turnaround in our facility once we receive your current oven control board
Significantly discounted shipping rates offered during checkout if you choose to purchase a prepaid shipping label to use when shipping your board to us
If you have any questions, please call 800-547-2049.
How This Works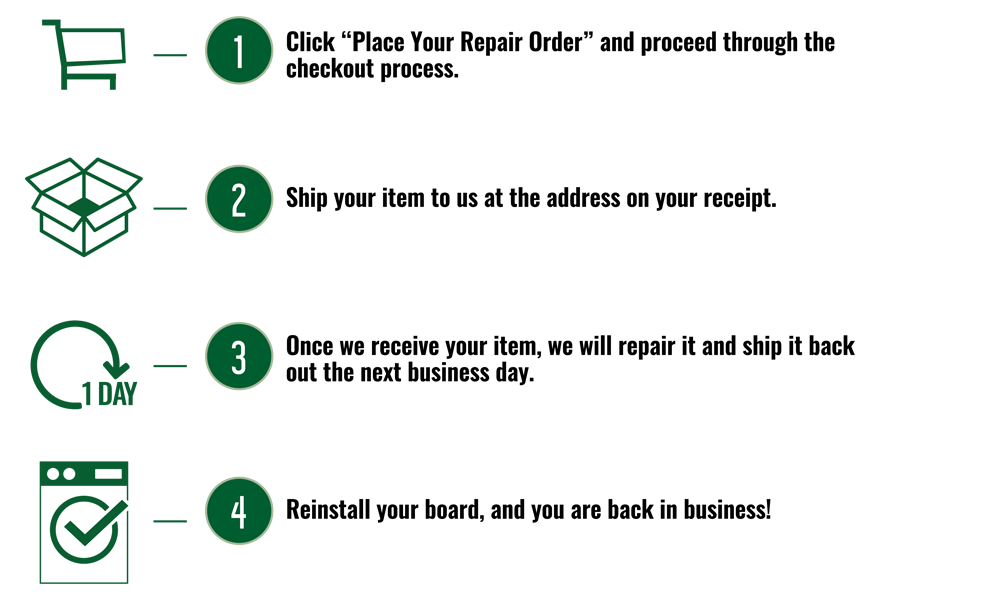 Part Numbers
Frigidaire Oven Model Numbers that use this control board.
Note: This is NOT an exhaustive list. If you do not see your oven listed,
please call us at 800-547-2049.
FEB27S5ABA
FEB27S5ABB
FEB27S5ASA
FEB27S5ASB
FEB30S5ABA
FEB30S5ABB
FEB30S5ASA
FEB30S5ASB
FEB374CCBC
FEB374CCBD
FEB374CCBE
FEB374CCBF
FEB374CCBG
FEB374CCBH
FEB374CCSC
FEB374CCSD
FEB374CCSE
FEB374CCSF
FEB374CCSG
FEB374CCSH
FEB374CCTC
FEB374CCTD
FEB374CCTE
FEB374CCTF
FEB374CCTG
FEB374CCTH
FEB374CHBA
FEB374CHBB
FEB374CHSA
FEB374CHSB
FEB374CHTA
FEB374CHTB
FEB556CEBA
FEB556CEBB
FEB556CEBC
FEB556CEBE
FEB556CEBF
FEB556CEBG
FEB556CEBH
FEB556CESA
FEB556CESB
FEB556CESC
FEB556CESE
FEB556CESF
FEB556CESG
FEB556CESH
FEB556CETA
FEB556CETB
FEB556CETC
FEB556CETE
FEB556CETF
FEB556CETG
FEB556CETH
FEB756CEBA
FEB756CEBB
FEB756CEBC
FEB756CEBD
FEB756CEBE
FEB756CEBF
FEB756CEBG
FEB756CEBH
FEB756CESA
FEB756CESB
FEB756CESC
FEB756CESD
FEB756CESE
FEB756CESF
FEB756CESG
FEB756CESH
FEB756CETA
FEB756CETB
FEB756CETC
FEB756CETD
FEB756CETE
FEB756CETF
FEB756CETG
FEB756CETH
FEB766CJBA
FEB766CJSA
FEB766CJTA

Warranty
Our no-hassle warranty covers your repair for a full two years. If the repair fails anytime within 2 years, we will repair the item again. In the rare occasion that the item is not repairable, we will either replace the circuit board entirely or refund the cost of the repair, at our discretion. See Details...