00702451 Oven Control Board Repair
00702451 Oven Control Board Repair
This repair service is for a Thermador and Bosch oven control board, part number 00702451 that has failed and is experiencing one or more of the following issues:
Intermittent error codes, including F1, F2, F3, F4
Oven exceeds the temperature setpoint or will not turn off
Oven does not reach temperature
Oven display, clock or electric range control (ERC) is dim or completely out
NOTE: We rebuild the display control board AND the separate relay board(s) (part #00492069) so that we can upgrade all the control boards from the oven.
If you have a single oven, please send the main display board AND 1 relay board.
If you have a double oven, please send the main display board AND 2 relay boards. (Repair cost stays at $159.99)
This repair is also for the following alternate and replacement part numbers:
00702450
14-38-902
14-38-995
1795924
35-00-704
415619
486786
488797
491432
492071
702451
961901
AH3491434
EA3491434
PS3491434
PS8736019
14-38-901
14-38-994
1795923
35-00-703
415618
486785
491431
492067
702450
AH3491433
EA3491433
PS3491433
PS8736018
The benefits of this repair service include:
Upgrading your range control board by using high-quality components
A no-hassle warranty that far exceeds warranties offered on new replacements
A 1-business day turnaround in our facility once we receive your current oven control board
Significantly discounted shipping rates offered during checkout if you choose to purchase a prepaid shipping label to use when shipping your board to us
If you have any questions, please call 800.547.2049.
How This Works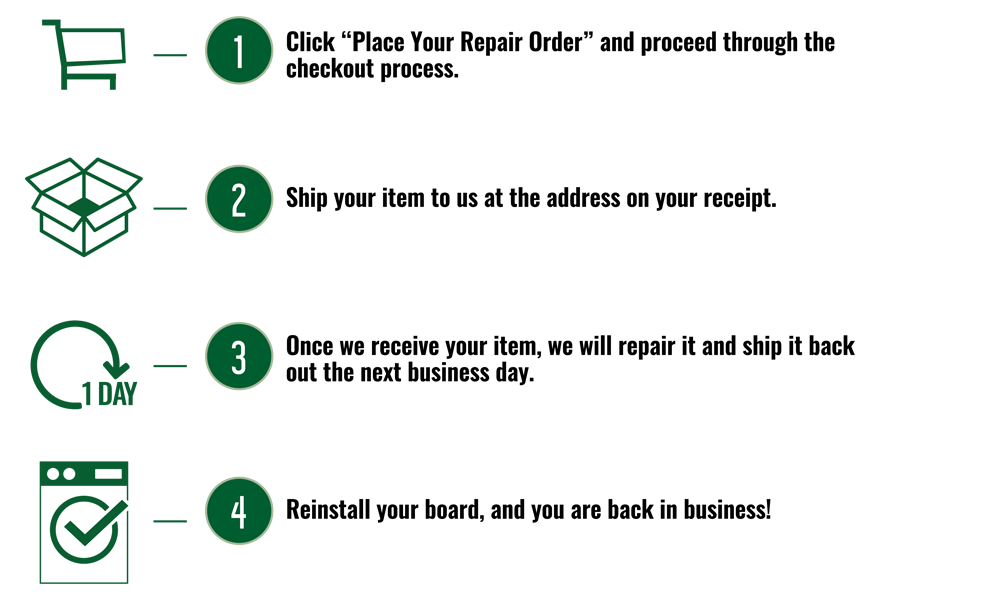 Part Numbers
Model Numbers that use this control board:
Note: This is NOT an exhaustive list. If you do not see your oven listed,
SCD302T
SC302T
SC301T
SC272T
SCD272T
S301T
S272T
S302T
SM272ZS
SMW272ZS
SMW272P
SMW272W
SMW272YB
SMW272YS
SMW272YW
SM272B
SM272YB
SM272YS
SMW272S
EH15VSXLN2
SM272S
SM272W
SM272YW
SMWS72YP

Warranty
Our no-hassle warranty covers your repair for a full two years. If the repair fails anytime within 2 years, we will repair the item again. In the rare occasion that the item is not repairable, we will either replace the circuit board entirely or refund the cost of the repair, at our discretion. See Details...